In Memory of Gerard Gervais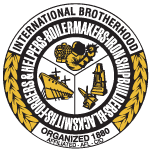 ---
The International Brotherhood of Boilermakers Lodge 146 is sad to announce the passing of Brother Gerard Gervias. Brother Gervais passed away on July 23, 2019, at the age of 66.  He had been a loyal member of the Boilermaker Union for 31 years.
A Prayer service will be held on August 8th from 6-9:00 pm at Mission View Funeral Home in Lac La Biche.
Funeral to be held on August 9th at 1:00 pm at St. Catherine`s Catholic Church in Lac La Biche.
Send condolences: www.missionview.ca
On Tuesday, July 23, 2019 Gerard "Jerry" Gervais of Lac La Biche, AB passed away at the age of 66 years, after a long and courageous battle with his health. He was predeceased by his parents, Robert and Florence Gervais; his brother, Richard; and sisters, Priscilla (Danny) and Valerie. Dad will be lovingly remembered by his daughters Michelle (Jeff), Nicole (Alex), Renee (Ray); son, Robert; grandchildren, Cole, Preston, Wyatt, Keanin, Dakota and Jayce; sisters, Angeline (Albert), Doreen (Joe); sister in law, Rita; and many nieces, nephews, great nieces, great nephews, cousins and friends. Jerry was born on October 28, 1952, was raised in Lac La Biche and at a young age moved to Edmonton, AB. Returning to his roots in Lac La Biche, he bought land in order to fulfill his life long dream of building a home with his own two hands, which he accomplished by doing much of the work himself. He loved his family; his dear friend, Brenda; his home; his two dogs, Coco and Poots; and his cat and her kittens. Coco and Poots were devoted to him and the protectors of the acreage from all sorts of wild life. He loved his community, Normadeau, had many friends and neighbors, all who helped and supported him when he fell ill – they and the community meant so much to him.